The rise in sea level will take away 40,000 square kilometers of coastline.
Marco Anzidei, coordinator of the SAVEMEDCOAST-2 project, funded by the European Commission, was recently a guest of the Orizzonti d'Europa Magazine, a television parliament program directed by RAI3, in the report "L'ora del clima". Theme of the program: how climate change will affect the environment and european citizens in the near future.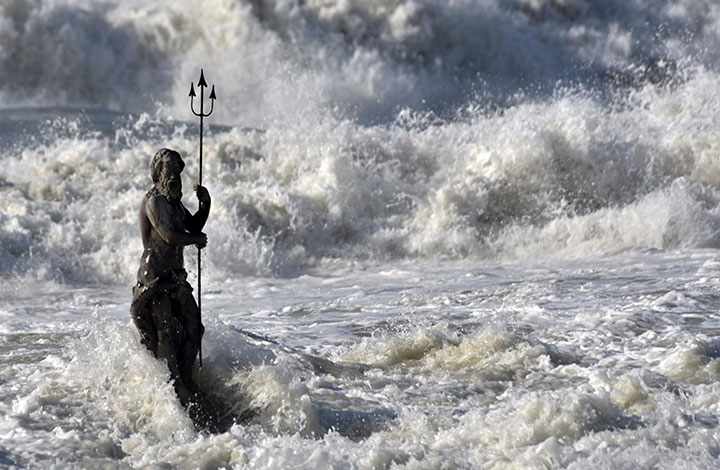 The statue of Neptune in Ostia, Rome
Coastal cities, natural areas and cultural sites, including some UNESCO, are in danger of being submerged by the sea in 2100. Sea level rise affects not only remote locations of the planet, such as the low lying Maldives or Solomon islands, but also many large cities of the five continents bordering the coasts. Some, such as the historical city of Venice, have become the symbolic icons of a phenomenon that puts large coastal strips at risk of flooding.
The exceptional high water level that struck Venice in 2019 and the storms that hit Liguria, Sicily, Greece and other areas of the Mediterranean, could be just a foretaste of what we might expect in the coming years. A similar event in 2100 in Venice would cause extreme sea levels of about 3 meters in consequence of sea level rise and land subsidence conditions.
As part of the SAVEMEDCOASTS project, precursor of SAVEMEDCOASTS-2, over 163 main coastal plains at risk of flooding have been identified in the Mediterranean. An area of about 5 and a half million of football fields will be reshaped. Human activities will be increasingly exposed to the risk of sea level rise and tsunamis.
For this reason, the continuation of SAVEMEDCOAST with SAVEMEDCOASTS-2, in addition to extend the sea level rise scenario for 2100 he main river deltas of the Mediterranean, such as the Rhone, Nile, Po and Ebro, is aimed at raise awareness in coastal communities to help them face the expected consequences of climate change. Because the present is there for all to see.

The Catania coastal plain, in Sicily (Italy). in the background, partly under the clouds, the Mt. Etna volcano. Photo by Marco Anzidei